Silk has been regarded and coveted as a luxury fabric as far back as the olden days, just as it is today. It was even considered and rated as 'gold standard' in the ancient trade by barter business.
According to history of textiles, silk fabrics were discovered in ancient China by a young Chinese empress but its weaving process was kept a guarded secret until generations later.
During the period of the Middle Ages, travelling caravans in Asia traded extensively in silk, and it was a popular fabric only amongst the elite, wealthy and influential.
The process of converting silk threads into this luxury fabric follows a gradual process that starts with the growing of trees for the rearing of silkworms.
This is followed by the process whereby the silkworms 'weave' their cocoon and then the manual harvesting of the cocoons, the unravelling of its filaments (silk fibre), and the manual production of silk yarn.
Natural Qualities of Silk
Silk, a luxurious fabric, is known to be one of the strongest natural and ecofriendly fibres, but it does lose up to 20% of its strength when damp or wet. It however has a good 'moisture regain' of 11%.
It is a natural fibre so its construction may contain minor variations and irregularities. These however are the characteristics of fine silk yarns and should not be seen as defects. Colours of silk fabrics may also vary due to different dye lots
Because silk fabrics have poor elasticity properties if stretched even slightly, it will retain the stretched form, and if exposed to too much harsh sunlight, its tensile strength becomes reduced.
It is best washed or dry cleaned prior to its construction, and even though the possibilities of its shrinkage is up to 4% (after its production into dressmaking fabrics or home décor materials), shrinkage can be reversed by gentle steaming with a fabric steamer or press cloth.
Silk's absorbency makes it quite comfortable to wear in warm weather, and its low conductivity keeps warm air close to the skin when worn during the cold weather.
And in terms of its construction and strength, natural silk is only surpassed by nylon, a man made synthetic fabric.
Popular Types of Silk Fabrics
Popular silk fabrics on the market today include the following types that are either natural (raw silk), man made, or a mix of both. They come plain, coloured, sheer, textured, and embossed, in both modern and classic pattern designs.
Dupioni silk – is a beautifully textured luxury fabric that's great for making evening wear, bridal gowns and special occasion apparel. It is also popularly used for light home décor works. The weft and warp threads are woven in different colours, to give a wonderful gleaming and iridescent effect.
Duchess Satin Silks, Single/Double Faced – These fabrics represent luxury at it's best! Single or double faced silks that will make a simple dress design an elegant classic, and an elaborate bridal dress breathtaking and timeless. Its wonderful for that once in a life time occasion treat. A soft "satiny" fabric, it has enough body to hold any shape or form desired whilst being soft enough to drape and flow.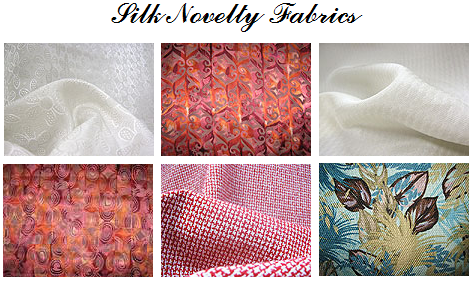 Novelty Silk Fabrics On-line – Luxury novelty fabrics in silk come beaded, embellished and patterned with features of abstract blooms, leaves, stems, etc.., and are constructed on 100% silk backgrounds.
Printed colours include yellow, rose, white, ivory, carnation pink and olive.
Silk Print Fabrics – choose from one of the largest selection of fine silk print fabrics starting from under $20 per yard.
They include silk floral prints, abstracts, ditzy prints and much more.
Patterns are printed on silk charmeuse, silk chiffon china silk and other fabric blends.
Elegant & Lightweight Silk Charmeuse – Silk Charmeuse fabrics are elegant and lightweight with astonishing fluidity. Idea for blouses, lined bias cut dresses, lining bridal gowns, lingerie.
It's the perfect lightweight, slinky, high lustre fabric for any drapery, special occasion or evening wear.
This wide satiny silk has the fluidity of silk charmeuse fabrics as seen in bridal dresses and prom gowns, without the high silk price tag. Silk Charmeuse is very popularly used for lingerie production as well.
Other Types of Fabrics Made From Silk
Other silk or blends that people love to buy include silk chiffons, china silk linings, silk suiting, silk satins, silk organza, and silk dupioni. Plus:
'Reeded' Dupioni Silk
Silk Velvet Fabric
Silk Taffeta
Embroidered Faux Silk Fabric
Embroidered Silk Fabric
Painted Silk Fabric
Plaid Silk Fabric
Striped Silk Fabric
Upholstery Weight Silk Fabric
Silk Is So Versatile
Fashion
Silk is often used to produce fashionable clothing such as shirts, blouses, formal and informal suits, high fashion couture, lingerie, negligees, pyjamas, jackets, robes, special occasion dresses, and the famous Japanese kimono dresses.
It is also used for accessories such as purses, ladies clutch bags, men's ties, scarves, etc…
Silk is used for specialist underclothing for children and adults who have eczema, where it is said to significantly reduce itching.
Home décor and furnishings
The attractive lustre of silk fabrics makes it highly suitable for many interior  furnishing.
It is used for light upholstery, wall coverings, window treatments, rugs, bedding, fold-able screens, framed wall hangings, and the like.
Silk is also used as decorating fabrics for draperies and such interior décor features, turning decorating projects into beautiful masterpieces.
They come patterned, embroidered, plain, multi-coloured, and textured, and whatever you use silk fabrics for in your interior décor, it will always "smack" of luxury, and add beauty to the space. Such is the beauty of silk.
Industrial and Commercial
Silk has been and still is used for many industrial and commercial products. It is used in the manufacture of bicycle tyres, used for parachutes, and in the production of artillery gunpowder bags.
A special process during manufacturing removes the outer servicing coating of the silk fibre and used as non-absorbent surgical sutures.
New uses and manufacturing techniques have been found for silk fibres, making it useful for everything from disposable cups to holograms and drug delivery systems.