Maybe you've been mulling over the idea of a makeover and considering incorporating brocade fabric into your home décor works. Or you want to add some classic touch into your wardrobe with some chic brocade apparel, perhaps a special occasion dress, a cropped jacket, or a great pair of brocade shoes…
But for now, let's take a moment to applaud brocade fabric's opulent history.
Brocade is one luxury fabric that dates back to ancient times, with records of it being around as early as the 13th century but its use didn't become widespread until around the 18th century.
This luxury fabric has stood the test of time; indeed it is a classic fabric that still hold strong in its choice for décor and apparel textiles due to its richness and versatility up until this day.
Though many may have grown up envisioning this fabric as an old couch family heirloom, or as grannies heavy plush drapes that made her 'parlour' look so dark, brocade is a textile that is still loved and cherished by today's interior designers, interior decorators, and fashion designers.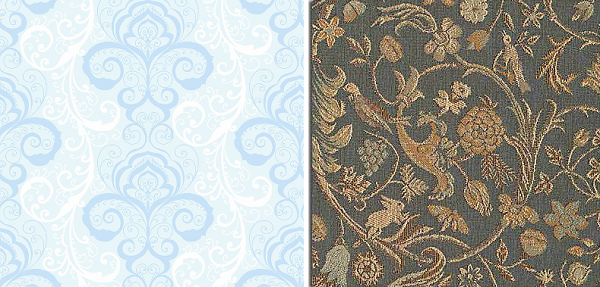 Traditional Uses for Brocade Fabric
Traditionally made from the finest hand-woven materials including light Lurex like threads of gold or silver, brocade was regarded as an exclusive fabric and was reserved only for the elite, aristocrats, and powerful people in the society.
It was also worn for special events and ceremonies like coronations or weddings and made into many apparel, from men's vests and waistcoats, to women's grand dresses, shoes, and handbags.
It was also used extensively in the homes of the middle to upper class of the society for things like furniture upholstery, drapery, bed covers, table cloths, napkins, bell pulls, and lamp shades.
Modern Day Use
Today, we are in the 21st century, so this means that centuries after, brocade is still highly relevant. It is used to make apparel by many different people from all over the world. It is also a popular fabric amongst some fashion designers and is used primarily to make clothes for women . . . evening gowns, costumes, bridal gowns, and cocktail dresses.
For men, it is used for kaftans, traditional African designs, and wedding vests, and recently, high-end designers are incorporating brocade textiles into designs made for everyday wear.
It is also extensively used as tie and dye fabrics made into trendy styles that's popular amongst fashionistas.
And for home décor, it is still used for upholstered furniture, accents like accent chairs, throw pillows, etc…, and window treatments.
Features of Brocade Material
When you see brocade for the first time, without touching or feeling it, the fabric seems like it is a damask fabric, or an embroidered one. When you touch and feel the material you'll find that it doesn't have the texture, thickness and weight of embroidered materials. Rather, it is smooth to the touch with distinct ornamental features that are slightly stiffer where they appear . . . with a surface that shows a low-relief effect.
Brocade mostly comes with a plain background of one colour, woven with warp yarn and constructed using a taffeta, satin, damask or twill weave. Its pattern has mostly floral themes with slight relief . . . constructed with the filler yarns during the weaving process.
Brocade with Adornments?
Traditionally, you will find brocade fabrics adorned with precious and semiprecious stones, typically worn by the wealthy, but today it is not uncommon to find brocades ornamented with sequins, faux stones, and intricate beading.