Velvet fabrics are luxury and plush textiles that are woven with two sets of warp, one for the pile and one for the back. This textile construction results in a thick lush pile on the face, and a plain and flat reverse. They come patterned, plain, or stripped and is constructed using either all cotton, mohair, silk, or man made fibres.
The pile effect of velvet is achieved by looping the set of warp threads over a sharp razor wire which cuts the looped fibres, leaving the surface lush and soft.
The cheaper range of velvet fabrics, and those termed 'chiffon velvet', are woven with two warp and two filler yarns, which gives it two backs, and to get the pile, the two resulting pieces are sliced apart.
Types and Variants of Velvet Fabrics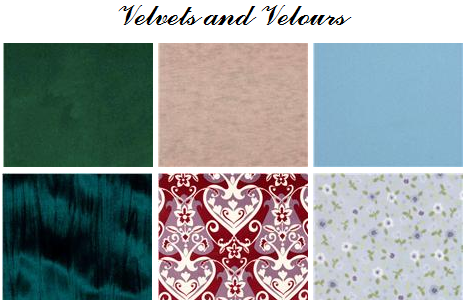 Velour – This is really a general term that's used for fabrics that look like velvet. It means velvet in French, but has been misused so much that the word 'velour' no longer has a definite meaning.
Velveteen – Velveteen is known by most people as cotton velvet and is woven without a pile unlike the fabric construction of real velvet with its lush pile.
It is made like a heavy satin fabric with weft threads 'floating' loosely over the warp threads.
To get a kind of pile, the surface must be sheared to give a fine and close pile. Velveteen is ordinarily made with cotton fibres and can be used as upholstery fabrics.
Other types of velvet fabrics that can be found abundantly on-line include:
Velvet upholstery fabrics
Panné velvet fabrics
Embossed velvet
Brocaded (Façonné) velvet
Moquette velvet
See Also: Classic Fabrics, Contemporary Fabrics, Silks, Damask,