Damask is a classic fabric that was originally made from natural silk and woven on draw looms. It has a beautiful background of a lustrous woven textile, detailed with intricately woven raised patterns and designs.
These unique patterns consist of geometric shapes formed mainly with botanical themes but there are damask fabrics that come with animal themes or simple scenic themes.
However, the most common pattern configurations remain the geometric floral designs with curlicues formations.
The Different Uses for Damask Fabrics
Damask textiles are quite versatile and can be used for home décor items, apparel, fashion accessories and crafts.
1. Home Décor Fabric
There are a number of soft furnishings that can be made with damask. From sofas to accent chairs; drapery and tablecloths to throw pillows and dining chairs, this is one fabric that has the ability to make an interior look posh, opulent, and classic. Many bespoke antique furniture sets are upholstered with damask textiles to give that elegant, expensive, and classic look.
It can also be used as wall coverings though you wouldn't want to cover all your living or dining room walls with damask but can use it as an accent on just one wall that's the most prominent in the room.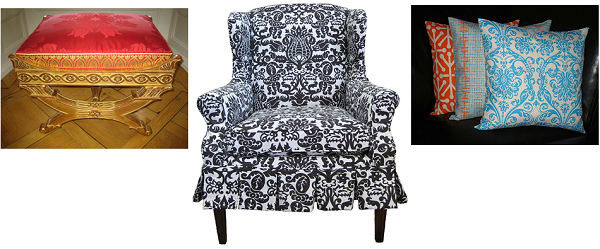 2. Fashion Apparel
Damask materials are used in the fashion industry for stylish mid to high end clothing such as jackets, heavy outer garments, suits, skirts, elegant dresses, and even bridal wear.
And in some African countries, it is used for sophisticated clothing styles of their national costume.
Because today's damask fabrics come in a wide variety of colours and modern variations of its classic pattern (though a bit pricey), it is still in high demand and well-loved mainly because of its background's pleasant lustre and its dense intricate weave.
3. Fashion Accessories
Fashion items made from damask fabric include casual and dressy shoes, slippers, ties, handbags, and evening purses but these are mostly made out of synthetic damask materials. Asides the fact that the synthetic type is less expensive, it is much more durable than damask made from organic materials such as silk or wool (they don't possess the same feel to the touch though).

4. Damask Crafts
You can make crafts from damask fabrics; items such as drawstring purses, place-mats, quilts, decorative packaging, slipcovers, and other special crafts.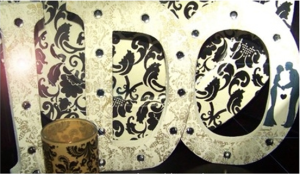 Articles: Wool, Bridal Fabrics
Synthetic Damask
Though the term 'damask' is now used more loosely to refer to a form of fabric construction that is characterized by a background of lustrous fabric with woven raised designs, it is still a well-respected genre of textile.
However, today's technology has almost "made nonsense" of the traditional art of damask's weaving process. The new age, bringing with it technological advancement, has played a great part in producing modern jacquard weaving machines, so all forms of damask fabrics can be found on the market and at numerous fabric stores online.
And now you can even buy synthetic damask in bulk by the bolt.