Today's bridal fashion is mostly about blending the styles of the past with modern fashion trends, such that this mix reflects in all aspects of the fashion industry, including bridal fashion.
Many brides like to have a dash of the classic for their wedding ensemble and one of the best ways to achieve a great mix is with bridal veils and headpieces inspired by vintage style of the early to mid-20th century. Veils and bridal headpieces of the past that inspires today's styles include the following:
1. Gothic Veils – also referred to as 'vampire' veils, are exotic medieval bridal veils made from plain or patterned tulle fabric. These are quite popular but seen mostly around Halloween.
2. Edwardian – English cotton net veils (English net) pre-date most modern veils and was quite popular during the era since the highly coveted silk wedding veils were expensive for most turn of the century brides. The English net veil was not only pretty, it was also an affordable option because it draped like silk tulle but had more weight and body, and was a bit more opaque than silk tulle. They were mostly square cut and embellished beautifully with tambour floss embroidery.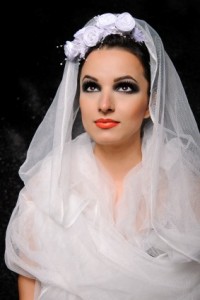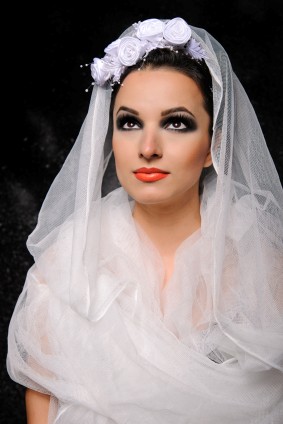 3. Cloche Headpiece – By the roaring twenties, the Cloche hats became timeless classics of the 1920s. They were drama personified and even as bridal hats, they were just as dramatic as wedding veils. They fit over the bride's forehead and the entire scalp, and then fell gracefully down her back. They were generally made with from silk tulle, pleated and starched and decorated with ribbons made from satin, embroidery floss, or trimmings with metallic gimp and flower blossoms at the ears.
4. Nylon Net Veils – By the fifties, in keeping with the simple economy of the period's clothing, nylon net bridal headpieces became the standard fabric used for wedding veils. These were also modern times and this airy and delicate fabric was considered to be the ultimate material in modern bridal veils. At this time the bridal veil become quite small, sometimes covering only the eyes. They were often purely ornamental and as attached to a hat or secured to the brides hair with a comb.
5. Skullcaps with Sweeping Veils – The seventies hippie vibes brought about lengthy dramatic bridal veils with embellishments. They included lovely cotton-lace skullcaps and sweeping floor-length trailing veils.
Modern Wedding Veil Fabrics
The modern bridal veil is delicate and gauzy and obviously transparent, and virtually always ivory, or in shades of white, and unlike wedding veils of a past era that are prized for their silk tulle construction, today's bridal veils are made from comparatively sturdier textiles mainly in cotton netting or nylon with added pretty embellishments like rhinestones, pearls, sequins, or other ornamental appliqués.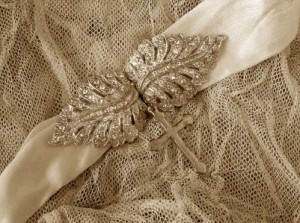 How to Blend Past Bridal Headpieces with the Present
It is fashionable to blend the past fashion style with today's modern trend and this can be done successfully with bridal attire as well. Wearing a vintage inspired bridal veil with a modern wedding dress or vice versa is a unique alternative for the modern bride to consider.
For example, a Cloche style wedding headpiece will look better worn over a chic body hugging bridal gown, than worn with a full and elaborate dress, bursting with layers of fabric, and a very lacy wedding dress will do injustice to a lacy veil.
For the stunning vintage look, it's good to keep the dress simple, but if your dress is very flamboyant, ensure that the bridal veil is kept simple.
See also: Silk Fabrics, Velvet Fabrics, Damask Fabrics, Bridal Fabrics